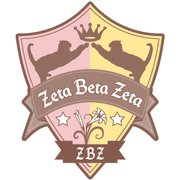 Zeta Beta Zeta (ZBZ), also known as Zeta Beta or ZBZ is a top sorority at CRU based on academics, athletics and philantropy. It even has a national network, lead by a National Council of former ZBZs. Like the other Greeks on campus, there is a hierarchichy based on a pseudo-politic and on bounds of sisterhood (each active chose a pledge every year to became is big sister and help her to fit in ZBZ, they remain bounded for a long time after that).
Active Members
Rebecca Logan, active, president
Ivy, active, standards chair and Ashleigh's "little sister"
Betsy, active, former social chair
Laura, active, former Penhellenic liaison
Abby, her pledge class president
Mandi, member of Rebecca's pledge class who helped make Casey miserable in season 1 and at the start of season 2
Former Members
Frannie Morgan, former president and creator of IKI, Casey's big sister
Beth, defected to IKI
Suzanne, former ZBZ Standards Chair
Libby ,kicked out prior to 1.08
Andrea, left in beginning of 1.12
Jordan Reed, former pledge who dropped out of school before becoming an active
Jen K, former pledge who wrote an article about the Greek System
Alumni
Casey Cartwright, pledge educator, rush chair, former Panhellenic liaison, former president, Rebecca's big sister, and former House mother
Ashleigh Howard, former president, former social chair
Teegan Walker, ZBZ Nationals representative and member of the Grand Council
Kiki, Frannie Morgan's big sister and also Robin Wylie's pledge sister.
Robin Wylie, Ashleigh Howard's big sister and a lesbian.
Lizzi, Nationals rep
Virginia Horton (mentioned in 1.06 "Friday Night Frights")
Trudy Henderson (mentioned in 1.06 "Friday Night Frights")
Video
Community content is available under
CC-BY-SA
unless otherwise noted.