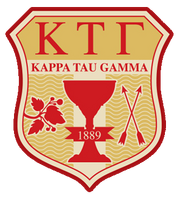 Kappa Tau Gamma (ΚΤΓ), also known as "Kappa Tau" or "KT"
is a fraternity in Cyprus-Rhodes University. It is well known for being the black sheep of the panhellenic system at CRU because of its reputation of being based heavily on socializing. KT is the rival house of
Omega Chi Delta
. KT is well known for breaking campus rules and gets excited about the challenge that comes from new rules that are put in place. During the day, KT is one of quietest fraternities on campus because all residents in the house follow a napping schedule.
Although KT is infamous for having its annual rush party, the members of KT don't attempt to impress and recruit pledges like most fraternities do. Instead, KT believes in what the members call, karmic-synergy, which is the belief that the people, who rightfully belong in KT, will come to them. Another unique trait of KT is that the actives give their pledges their own nicknames. Occasionally, a pledge's KT nickname will be their actual name, such as with Ben Bennet, Wade and Anthony Hopkins.
Members
Name
Nickname
Status
Position
Captain John Paul Jones
Cappie
Alumni
President (formerly)
Rusty Cartwright
Spitter
Active

President

Rush Chair (formerly)

Pledge Educator (formerly)

Walter Boudreaux
Beaver
Active
Philanthropy Chair
Heath Anderson
None/Doc/Dopey
Active

IFC Delegate

Social Chair

Jeremy
Unknown
Expelled
None
Wade Matthews
Wade
Expelled

Rush Chair (formerly)

Pledge Educator (formerly)

Ben Bennett
Ben Bennett
Active (hasn't been seen since his sophomore year)
Pledge President (formerly)
Peter Parkes
Spidey
Pledge
Pledge
Egyptian Joe
Egyptian Joe
Alumni
President (formerly)
Lasker Parkes
Brother Falcon
Alumni
Inventor of 'Joshua Whopper'
Anthony Hopkins
Anthony Hopkins
Active
None
Jake
Woodchuck
Active
None
Unknown
Arrowhead
Active
None
Brad
Gonzo
Active
None
Unknown
Pickle
Active
None
Unknown
Dump Truck
Active
None
Evan Chambers
Bing
De-pledged
Pledge
Andy
Andy-licious
De-pledged
Pledge
Mickey Scoobella
Scooby
De-pledged (Dropped out of school)
Pledge
Gallery
Video
Community content is available under
CC-BY-SA
unless otherwise noted.